The NBSOIL Project partners gathered in Vienna from 27-29 September 2023. The meeting served as a stepping stone to move forward with project developments, offering a moment for reflection and co-creation work. The gathering also provided an opportunity for all partners to visit two of the NBSOIL demo sites located in Austria.
The meeting in Vienna offered a space for NBSOIL partners to come together and share their latest developments. The project partner BOKU – University of Natural Resources and Life Sciences, hosted the conference at its premises in Vienna near the "Türkenschanzpark." During the gathering, each partner had the chance to provide updates on their tasks and activities in recent months. However, the primary focus was on the developments around the upcoming Soil Academy and the launch of the introductory Massive Open Online Course (MOOC), as well as a deep dive into the project demo sites and the new EU Soil Health Law.
Training the new wave of soil advisors
The NBSOIL MOOC will be a six-hour training designed to enhance soil literacy among the public and actively engage soil advisors, land managers, and other stakeholders in discussions regarding soil health and the advantages of an agroecological approach relying on nature-based solutions (NBS). The MOOC will initially introduce NBS for healthy soil management and the role of soil advisors in implementing them. During this initial module, participants will gain insights into the threats to soil health and their causes, the goals and key actions of the EU Soil Mission (of which NBSOIL is a part), and the profiles and career pathways of soil advisors.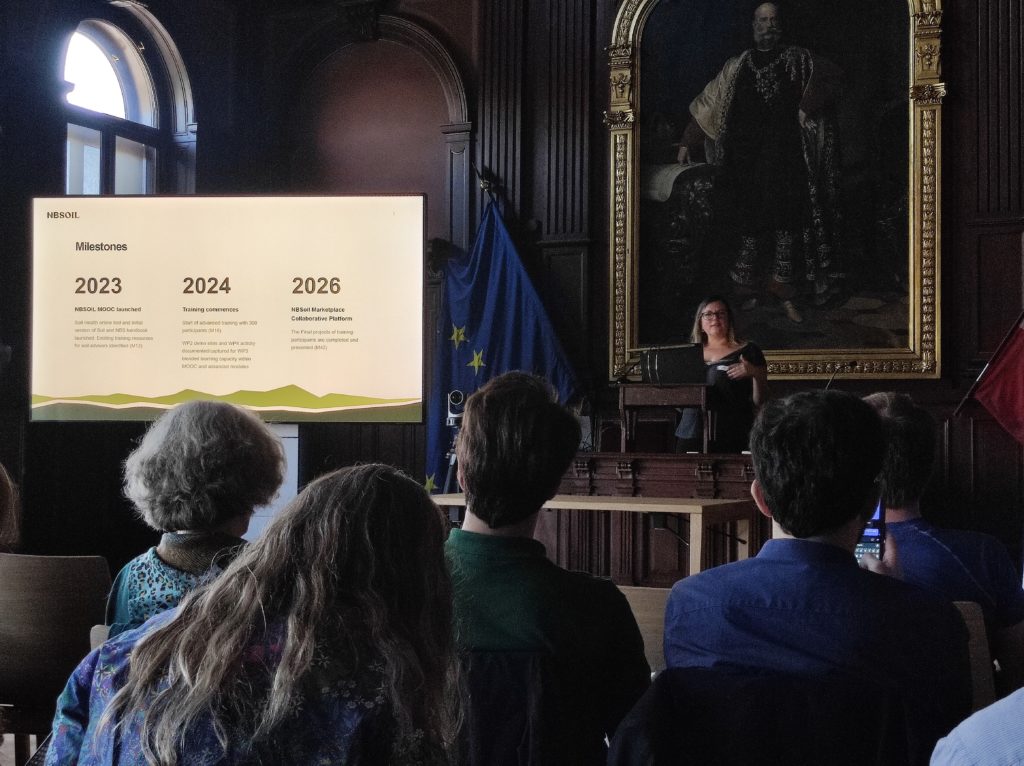 The MOOC will then focus on NBS for sustainable soil management in four sectors: agriculture, industry, forestry, and construction. The course will highlight the six NBS multifunctional practices that NBSOIL is testing to improve soil health in Europe: organic fertiliser, cover crops, paludiculture, bioremediation, forest diversification, and green and blue infrastructure. The training course will delve into the advantages of each solution and the current European policy context for each of the NBS, as well as enumerate the challenges of these practices.
The massive online course will also serve as an introduction to the NBSOIL Academy, which will be launched in 2024. This will be a two-year blended learning program designed to train and upskill the next generation of soil advisors. The academy will offer an immersive, interactive, flexible learning experience that will train at least 300 soil advisors. Participants will deep dive into four advanced modules during the training: soil and NBS, soil health and living labs, digital tools, and decision-making. Additionally, participants will develop a final project. The course will be available in seven languages: English, Polish, German, Dutch, French, Italian, and Spanish.
Testing NBS to restore soil health
During the meeting in Vienna, the partners also focused on the project's field activities. The respective partners presented the selected demonstration sites for testing NBS to restore soil health in different human-affected ecosystems. The demonstration sites, located in Poland, Austria, Italy, Spain, and Switzerland, will provide practical demonstrations of nature-based solutions to restore soil health that can then be implemented, thereby assessing the required knowledge and technologies for their application. The sites will also provide on-site teaching and demonstration material for soil advisors to integrate into the NBSOIL Soil Academy.
The NBSOIL partners took advantage of being close to two of these demonstration sites and went on a half-day field visit to the Pannonian area of Austria. The first stop was Grand Farm in Absdorf. With the founder, Alfred Grand, the NBSOIL team delved into the world of vermicompost and market gardening. Grand Farm is a unique research and demonstration farm of its kind. It is an organic farm with crop production under minimum tillage, including experience in roller crimper, highly diverse crop rotations, undersowing, and diverse cover crop mixtures. The operation combines arable farming with market gardening.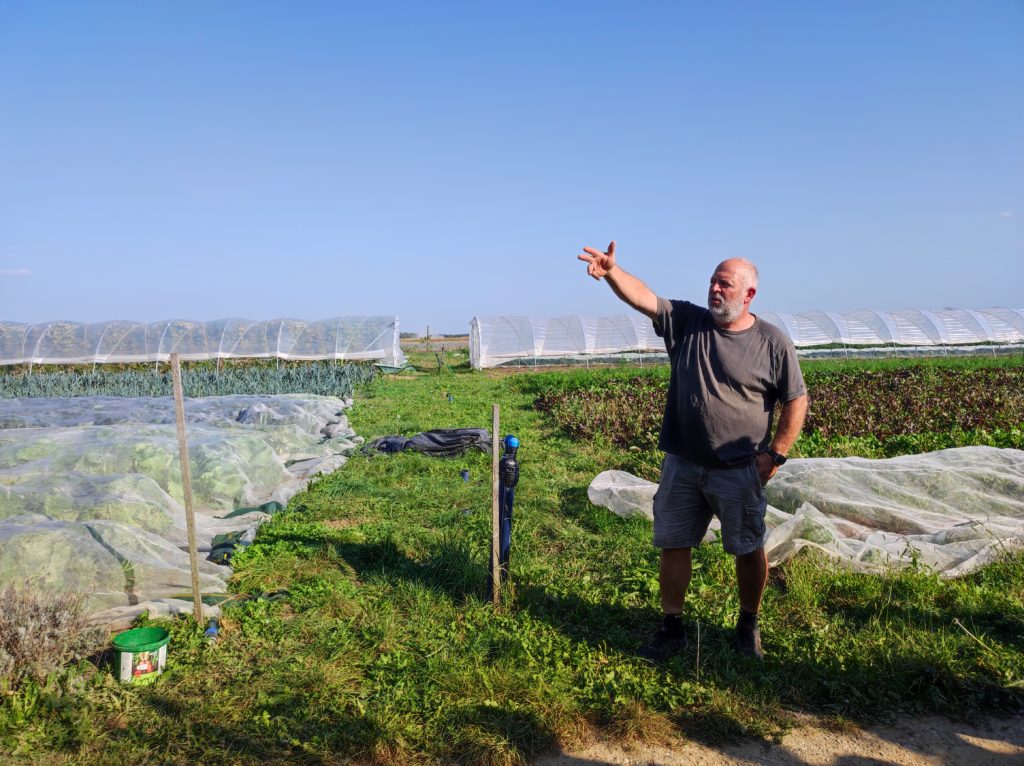 Grand Farm has had a clear focus on soil health since its beginning. Alfred Grand started the vermicomposting division as an innovation more than 20 years ago because, as he says, "we as humans cannot make soil. Earthworms can!". In the market gardening division of the farm, he applies and deepens his research. As Alfred Grand mentioned during the visit of the NBSOIL partners, with the vegetable boxes he sells, he offers organic vegetables that are "fresh, regional, and seasonal."
In addition, for free, in his boxes, he is also offering climate change mitigation and adaptation, reinforcement of biodiversity, and soil regeneration. All of this because, as he explained, "we reduce the carbon footprint using less transportation and having just one fossil fuel machinery, we don't use mineral fertilisers or pesticides, we apply mulch, compost, reduce irrigation, support crops and pollinators biodiversity, and we also avoid heavy compaction of the soil to maintain it healthy." He highlighted: "It is really amazing what you can make out of soil in a very short time."
The second stop was Hans Gnauer Farm at Grübern. During this second field visit, the team witnessed a conventional arable farm with a no-tillage system, diverse cover crop mixtures, innovative management approaches for potatoes with dam coverage, and planting green wheat. Contrary to the first stop, this farm uses mineral fertilisation partially with CULTAN (an acronym that stands for controlled uptake long-term ammonium nutrition). This is a type of injection fertilisation where the entire amount of nitrogen needed for a plant to grow is injected at one time.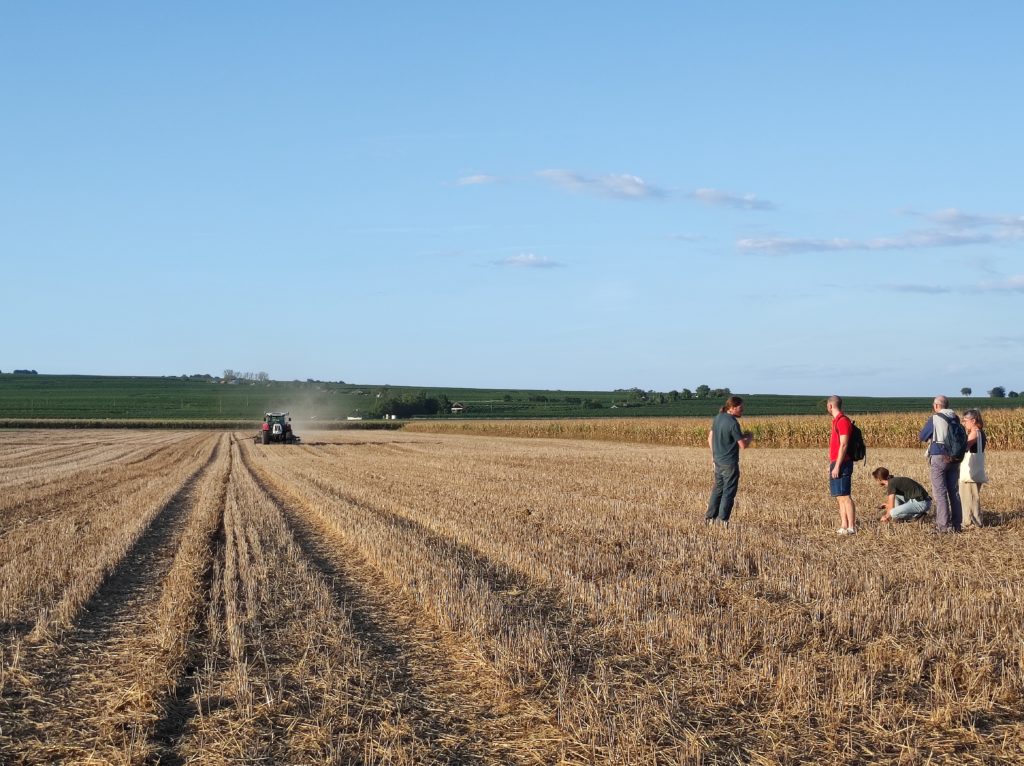 Hans Gnauer Farm is part of the Association Boden.Leben for climate-adapted and constructive agriculture. The association works to provide a knowledge advantage for practice-oriented research work, advice from farmers for farmers, and to raise awareness and sensitization for soil protection.